Community Spotlight: Sandy Pony Donuts

---
It's official—there's something special about donuts. Just thinking about them can make your mouth water in anticipation. Whether they're your favorite guilty pleasure or a well-deserved reward, every blissful bite is a treat. They're just one of those things that bring out the kid in you. You can eat them on the go or kick back and enjoy them with some coffee.
Whatever your preference, there's a place in Annapolis that you may want to try. With this and three other convenient locations, Sandy Pony Donuts means business.
---
​
About Sandy Pony Donuts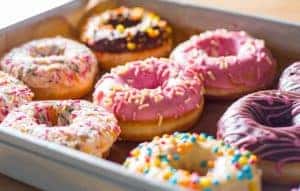 Sandy Pony Donuts began on Chincoteague Island, a quaint resort town on Virginia's eastern shore, in April of 2015. Owners Brea Reeves and Ben Wang named the business after the town's sandy shores and its famous native four-legged inhabitants, the Chincoteague Ponies. It was the fulfillment of a dream for Brea, who grew up working in restaurants. Up until then, no one had done made-to-order donuts on the island, so she and Ben jumped on the opportunity. They started out from a food truck, and after a hugely successful summer, they were ready to expand.
Between April and October of that year, they took the time to experiment with and test different flavors and combinations of glazes. Their goal was to build a menu that was truly unique and really represented the island as well as their quirky sense of humor. At the end of October of 2015, they opened the Annapolis shop. That was also a resounding success, and they now have additional locations in Bethany Beach, Delaware, and Deale, MD.
---
The Experience
All of Sandy Pony's donuts are made-to-order. When you go there, you can expect your donuts to be hot and fresh, and just what you ask for. Their unique, stand-out menu features 24 signature flavor combinations that keep customers coming back again and again. If you want to do your own thing, you can customize your order. With warm and friendly service, they aim to please and to give you an unforgettable experience.
---
The Menu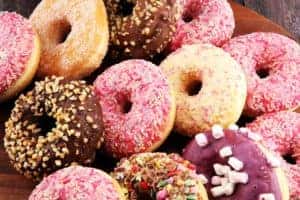 The menu really is a treat. You may feel like a kid in a candy store, not knowing what to pick because you want to pick everything. The amusing names will certainly pique your curiosity. You may want to try something like the Porky Pony, a cinnamon sugar and bacon donut with honey glaze. The Aww Shucks may get a chuckle out of you. It's a donut with honey glaze and rainbow sprinkles. There's also the Dirty Banana, which has an Oreo crumble and a banana glaze. If you're feeling festive, try the donut with strawberry glaze and rainbow sprinkles aptly called the Pony Party.
It's not just donuts that they offer, though. There's also an enticing bubble tea menu. The teas are brewed daily and the tapioca pearls are done in-house, so you know that the ingredients are fresh. If you're not a coffee-lover, bubble teas may be more your speed. The list of flavors includes the Tidal Wave Taro, Mango Lagoon, Coconut Cove, Piney Island Green Tea, Bayside Black Tea, and Mocha Marsh. They also offer smoothies and acai bowls.
---
Donut Miss Out on Sandy Pony Donuts!
Whether you're looking for a sweet treat to start your morning off right or an afternoon snack to push you through the rest of the day, Sandy Pony Donuts has all the flavors you love.
Check them out on Facebook and Instagram to see what else is cooking!
---