Kid Activities in Annapolis, MD
Looking to plan your child's next birthday party? Or, maybe you're just looking for kid activities in the Annapolis, MD, area for a family fun day. The great news is, you'll have plenty of options!
We've done the research for you and found our top picks for great spots to bring your little ones on your next family excursion or event. Check out which one sticks out most to you, and get ready to have a ball!
My Gym
My Gym was created to help children learn and grow in a fun, engaging environment. With different classes offered, along with being a great site for parties and events, you'll find that My Gym offers just enough variety to keep children interested while learning at the same time!
Classes include Little Bundles for children ages 6 weeks to 6 months, intended to help parents bond with their babies through several activities. Pre-ballet classes are offered, as well, for little ones ages 3-5 who want to get their dancing shoes on early!
Pirate Adventures on the Chesapeake
Search for sunken treasure, fire the water cannons, and live like a pirate for a few hours at Pirate Adventures on the Chesapeake. Whether you're having your child's birthday party here, or just looking for a different family activity, you'll be sure to have a great time when you hop aboard!
To have the full pirate-life experience, your child will be dressed, and maybe even acquire some face paint, too. They'll then "set sail" in search of Pirate Pete, who has what the crew needs in order to find the treasure – and on this ship, the kids always find the treasure!
ZBounce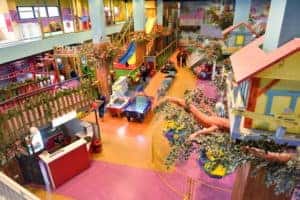 Bumper cars, airplanes, and other awesome rides are at ZBounce Kid's Fun Place and ZPlanet Kid's Fun center. Plan your child's next birthday party here, and you'll receive tons of options – including exclusive bouncing access in a private party zone!
Or, if you're looking to have the party at home, ZBounce offers rentals, too. Choose from the Animal Kingdom, Sports Car, Basketball Hoop, and many more, and wow your little ones with their best party yet!
With so many great kids activities in the Annapolis area, it may be hard to choose just one! Check out these great locations, and plan your next family day or birthday party today.