2020 BMW 3 Series Maintenance Schedule

The 2020 BMW 3 Series is a great way to get around Annapolis, Highland Beach, and Hillsmere Shores, Maryland, in style. To keep it as dependable as it is luxurious, you'll want to follow its prescribed maintenance schedule.
Every vehicle has a set of recommended service intervals in the owner's manual, but our team at BMW of Annapolis wants to make things easier for you.
Read More:
Our 2020 BMW 3 Series maintenance schedule covers the most important services your luxury small car will need, so you can keep it in prime running condition for years to come!
When is Service Needed?
There are recommended timeframes to get maintenance completed on your BMW 3 Series—typically every 10,000 miles. However, the vehicle can inform you when service may be needed.
The iDrive system provides this information right onto the Control Display behind the steering wheel. If you wish to manually check this data, go to "CAR," "Vehicle Status," and "Service schedule"—all through iDrive. You'll then want to select an entry for more detailed info.
There are three symbols to be mindful of. If you see OK in green, then no service is needed at that time. If you see a yellow triangle, the deadline for scheduled maintenance is approaching. If you spot a yellow exclamation point, the service deadline has passed—you'll want to make an appointment as soon as you can.
Recommended Safety & Oil Service (Every 10,000 Miles)
You may be wondering, then, what type of service is needed at any given time.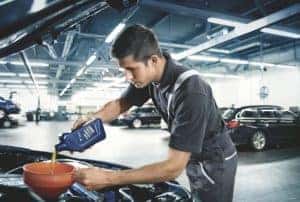 After the first 10,000 miles behind the wheel of your 3 Series (and every 10,000 miles thereafter), there are a few routine servicing items you'll want to have performed, so your car continues running in prime condition. They include:
Brake inspection
Fluid level inspection
Indicator/dashboard warning lights check
Oil/filter change
Tire pressure check
These are some of the most basic items for taking care of your 2020 3 Series. By changing the oil regularly, you can help prevent engine failure down the road. Routine tire pressure checks, meanwhile, can help avoid potentially dangerous blowouts.
Inspection 1 (Every 30,000 Miles)

Once you've driven 30,000 miles in your 3 Series, you should contact a BMW service center to perform an Inspection 1.
You'll want to have your basic safety and oil servicing performed again at this time, plus the following items:
Power steering, rear axle, and transmission leak check.
Exhaust system inspection.
Read diagnostic system with BMW scanners.
Visual check of fuel connections, lines, and tanks.
If you tell a BMW-certified technician that you're due for an Inspection 1, they should be familiar with all the service items your car needs at this time.
Inspection 2 (Every 60,000 Miles)
When your 2020 3 Series has been on the road for 60,000 miles, you'll want to schedule another maintenance appointment. At this one, your technician should perform all the service items from Inspection 1, plus the following additional services:
Change fuel filter.
Flush/change hydraulic fluids.
Service fuel injectors.
The Inspection 2 service is a bit more involved than Inspection 1 and involves replacing a few crucial parts. However, it'll help keep your automobile running well for many years and miles.
What Work Gets Done After 90,000 Miles?
If your BMW 3 Series continues to run well after 90,000 miles, then you can feel good knowing you've taken great care of its performance.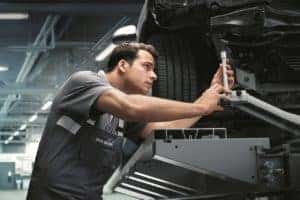 There's more work to be done, though, when the vehicle reaches this milestone. In addition to the tasks mentioned above, the following tasks will need to be completed:
Replace timing belt and hoses.
Replace spark plugs.
Rotate or replace brake rotors as needed.
Clean fuel system.
When this is all done, you can continue to drive around in this automobile for as long as possible.
Schedule BMW 3 Series Maintenance Today
Following this 2020 BMW 3 Series maintenance schedule is essential to keeping your small luxury sedan safe and reliable for the long haul.
At BMW of Annapolis, our trained technicians can provide all the vehicle service you need. You can even visit our BMW FastService® Center for quick maintenance when you're on the go.
Schedule an appointment with our service center the next time your 2020 3 Series is due for maintenance. We'll have it ready for the roads of Annapolis, Highland Beach, and Hillsmere Shores, MD, in no time!
You May Also Like