Best Wineries in Annapolis MD

You could spend a bunch of dough to hop on a plane to Mendoza, Burgundy, Napa Valley, Tuscany, or any of those other far-flung Dionysian paradises. Or, you could indulge in incredible wine right here in Annapolis, MD!
Great Frogs
Address: 3218 Harness Creek Road – Annapolis, MD
Contact: 410.626.6193
Honesty, approachability, and elegance-that's what you'll experience with every bottle at Great Fogs. It all starts with the grapes, and that's why they grow some of the highest-quality green and red globes in the entire Chesapeake region. They also harvest their grapes at nighttime, for the lowest temperatures possible.
If you'd like to learn all the ins and outs of their process, just make a reservation during tasting hours.
Thanksgiving Farm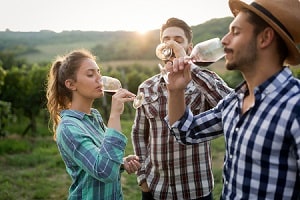 Address: 195 Harwood Road – Harwood, MD
Contact: 410.630.1511
European-style dry wines, merely 20 minutes from the U.S. Capitol-that's exactly what you'll find at Maryland's own Thanksgiving Farm. They have the whole setup from their Barrel Aging Room and Fermentation Facility to their Wine Processing Facility and their Wine Tasting Room. It's all done right there in house.
If you're not able to make it in right now, they can ship to Maryland, Washington D.C., and Florida. Remarkable!
Vineyards at Dodon
Address: 391 Dodon Road – Davidsonville, MD
Contact: 410.798.1126
Ecological diversity, meticulous viticulture, and precision winemaking-that's what the winemakers at the Vineyards at Dodon are all about. And why wouldn't they be? After all, they're the eighth generation to be taking care of their historic property, and that really shines forth in their commitment to excellence.
Join their wine club if you'd like to receive a bounty of six bottles bi-annually that are perfect for dinner parties!
It would be nice to just sit around and sip luxurious wines for the rest of our days. However, we can't. That's why we created more guides for other great things to do around Annapolis, MD. Browse these articles today!