2018 BMW 3 Series vs Mercedes C-Class

Finding the right luxury car isn't always the easiest experience, and it shouldn't be impossible. At BMW of Annapolis, we've helped plenty of drivers in Annapolis, Highland Beach, and Hillsmere Shores decide between vehicles that they're torn between. If you're stuck deciding on the 2018 BMW 3 Series vs. Mercedes C-Class, you've come to the right place, because we're here to help you.
Check out our BMW 3 Series vs. Mercedes C-Class to find out which luxury sedan is the right choice for you!
3 Series vs C-Class Cabin Comfort & Space
While the BMW 3 Series and Mercedes C-Class are each equipped to carry five passengers respectively, there is a difference in interior space that can affect the passengers' comfort. The 3 Series offers 40.3 inches of headroom in the front and rear rows while the C-Class is limited to 37.1 inches of headroom for rear passengers. Passengers in the front of the 3 Series get more legroom with 42 inches while front passengers of the C-Class get a little less with 41.7 inches. The BMW 3 Series features SensaTec upholstery, which is an eco-friendly synthetic leather that generates fewer emissions than the leatherette seating materials that the Mercedes C-Class is outfitted with.
Technology & Entertainment Features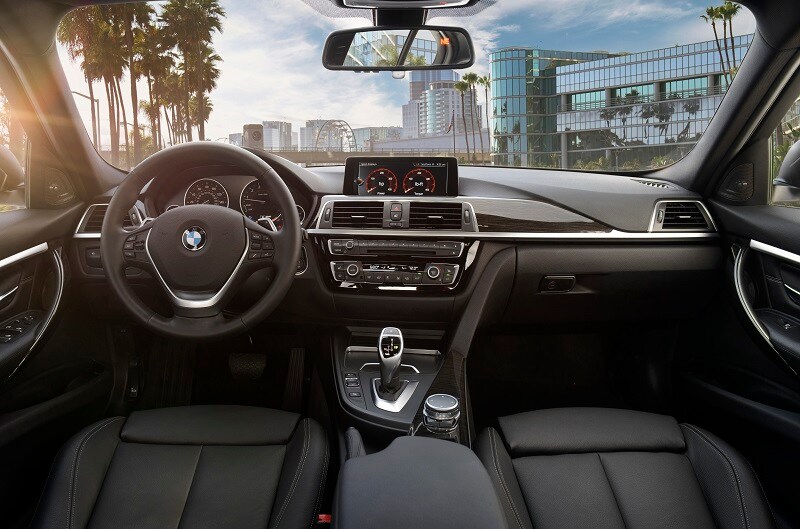 The 3 Series and C-Class each come outfitted with sound systems that provide crisp and clear listening of your preferred audio entertainment. Each vehicle includes a dashboard-mounted touchscreen display that allows the driver to access their media features. Each vehicle includes Bluetooth® streaming and hands-free phone calls as well HD Radio™.
The 3 Series comes pre-wired for SiriusXM® Satellite Radio, so if you have a subscription, including it with your vehicle is very simple. The C-Class offers a free trial subscription of SiriusXM®, although it requires a few trim level upgrades to include that feature in your entertainment arsenal.
Performance & Efficiency
The BMW Series 3 and Mercedes C-Class are each equipped with respective 2.0L 4-cylinder turbo engines that provide a hefty horsepower output. However, when it comes to fuel efficiency, the BMW 3 Series has a slight edge over the Mercedes C-Class with its EPA-estimated 23/35/28 city/highway/combined MPG. The Mercedes C-Class only gets 32 highway MPG and 26 combined MPG, which may not seem like a particularly huge chasm, but those miles tend to add up over time.
Deciding Between the 2018 BMW 3 Series vs Mercedes C-Class
At BMW of Annapolis, we hope that you found this 2018 3-Series vs. C-Class comparison useful to learn more about these two popular luxury sedans. Hopefully, you also learned enough about these vehicles to inform your decision towards your next car. You saw the notable advantages that the BMW 3 Series has over the Mercedes C-Class, but why not learn more like how the 3 Series handles on the road when you're behind the wheel?
Schedule a test drive with us at BMW of Annapolis. We're proud to help drivers from Annapolis, Highland Beach, and Hillsmere Shores make the right choice when they're looking for their next luxury car.