Buying vs Leasing: Get your free eBook today!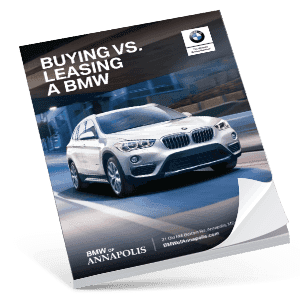 Congratulations! It's time for you to begin financing your BMW. But with so many different buying options available, it's important to know the benefits and drawbacks of each one. That way, you'll know which choice is best for you when it comes time to drive home in your new BMW 330i, BMW X3, or any other BMW model.
Luckily for you, you'll have access to all the information you need to expertly maneuver through every step of your own financing process. With this FREE Buying vs. Leasing a BMW eBook, your guide to the ins and outs of buying and leasing your new vehicle is only a click away.
With this handbook, you can expect to start learning about the exciting world of vehicle financing, which includes: BMW Specials Free eBook to Buying vs. Leasing
Understanding auto loans
Understanding leases
Differences between buying and leasing
Benefits and drawbacks of buying
Benefits and drawbacks of leasing
Which option best suits your lifestyle
As if that weren't enough, this FREE eBook also comes chock full of money-saving coupons that'll help you even more when it comes time for you to finally finance your BMW.
So, don't hesitate to open up this guide and start taking advantage of all the perks found within it. All you have to do is fill out the form, download, and start your education on BMW buying vs. leasing.
---
Get Your Free Buying vs. Leasing eBook Today!