BMW X3 Warning Lights

The BMW X3 is known for having a sporty and reliable performance. Sometimes, when traveling around Annapolis, Highland Beach, or Hillsmere Shores, an unknown light can appear on the dashboard.
These lights can either be a warning (red or yellow) or an indicator (green or blue). Some are less serious than others, but you should still know what they all mean.
Learn all about the BMW X3 warning lights below, and contact us at BMW of Annapolis if you have any questions.
Red Lights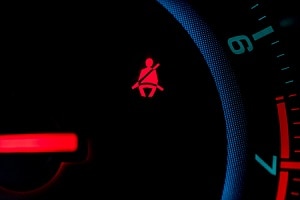 The following are lights that'll appear in red on the X3 dash:
Safety belt reminder: This looks like a person wearing a seat belt. The light should go away once everyone is completely buckled in.
Airbag system: The icon appears as a side view of a person strapped in with a red circle in front of them. When it lights up, it means the airbag system and belt tensioner aren't working.
Parking brake: When you see PARK in all caps or a P in a circle, then the parking brake is set. The light will go away once you release the parking brake.
Brake system: When you see BRAKE in all caps, the braking system isn't working properly. You'll need to get your car looked at as soon as possible.
Yellow Lights
Here are some of the yellow lights you'll see on the BMW X3 dashboard:
Anti-lock Braking System: When you see ABS in all caps, the Anti-lock Braking System may not be working. You'll want to avoid abrupt braking, and have the car checked out as soon as you can.
Tire Pressure Monitor: This light appears as an exclamation point inside an open circle. It means one or more of your tires are low on air and will need to get filled up soon.
Steering system: When you see a steering wheel with an exclamation point next to it, the steering system may not be working.
Emissions: If you see an icon that looks like an engine, it could mean one of two things. The emissions system could be deteriorating, or there could be excessive misfiring in the engine. Either way, you'll need to get the car looked at immediately, as it's no longer safe to drive.
Green & Blue Lights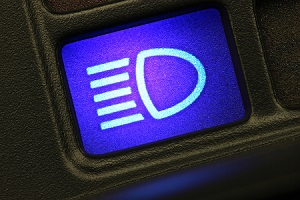 There are few lights that'll appear in green. They are as follows:
Turn signal: When two arrows are facing away from each other, then the turn signal is switched on.
Parking lights/headlight: This light looks like a capital D with three horizontal lines behind it plus a mirrored image. When the parking lights or headlights are on, this light will appear on the dashboard.
Front fog lights: This light appears as a single capital D with three horizontal lines behind it and a squiggly line on top of them. It'll come on when the front fog lights on switched on.
Automatic hold: AUTO H in all caps means the automatic hold is activated. This means the car will automatically be held in place when it's stationary, to prevent it from rolling backwards.
There's an additional light that'll appear in blue when activated. A capital D with five horizontal lines behind it means the high beams have been turned on.
Schedule Service for Your BMW X3
If a red or yellow light appears on your vehicle's dash, bring it to our service center to get it looked at. Our certified technicians have years of experience working on all types of BMW models. As a result, they know all about the different warning lights that can appear and can easily fix the issue.
So, if you need auto service near Annapolis, Highland Beach, or Hillsmere Shores, schedule an appointment at BMW of Annapolis today!