2018 BMW 4 Series Maintenance Schedule
A BMW 4 Series is an excellent choice for cruising around Highland Beach and Hillsmere Shores in style. To keep it looking great and performing for years to come, it's important to keep up with routine maintenance.
At BMW of Annapolis we want to help you keep your car in top shape for as long as possible. That's why we put together this 2018 BMW 4 Series maintenance schedule to let you know what when to stop in for service.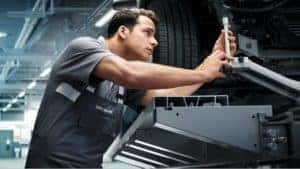 Every 5,000 Miles
On your first trip back for maintenance, service technicians will inspect a few components and perform basic work.
You'll get your tires rotated and have an oil change if you're using conventional oil. Your tire tread and air pressure will also be checked as part of your multi-point inspection.
Some other areas that they'll look at include the interior and exterior light bulbs, brake pads, brake lines, and all your engine fluids.
Every 10,000 Miles
When you come back again at 10,000 miles, you'll have all the same areas inspected and get your tires rotated again. If your BMW 4 Series takes synthetic oil, this is the maintenance appointment where we'll change your engine oil filter and give you an oil change.
Every 15,000 Miles
Your BMW 4 Series will get more a more extensive inspection once it hits 15,000 miles. Your coolant system will get looked at this time, including your levels and signs of any leaks. The brake system also gets a more in depth look than previous visits. Now technicians will check the condition of your brake fluid. The same goes for your transfer case, exhaust system, steering, and suspension systems.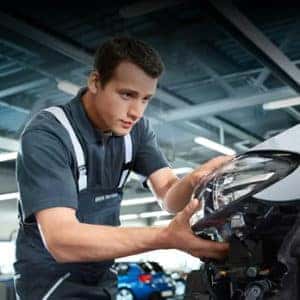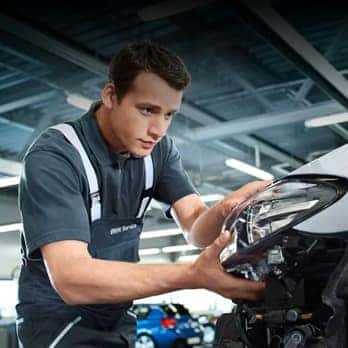 Every 20,000 Miles
At 20,000 miles it's time to check your fuel filter and replace it if necessary. All your other systems and filters will be inspected again, plus your usual oil change and tire rotation.
Every 30,000 Miles
Once your BMW 4 Series hits the 30,000-mile mark, it'll be time to give it new brake fluid to help you stop safely for another 30,000 miles.
On top of that, and your regular system checks and basic service, technicians will inspect your distributor cap and the wiring in your ignition system. They'll also replace your cabin air filter.
Every 60,000 Miles
Congratulations on your first 60,000 miles in your BMW 4 Series. This is a big maintenance milestone since you'll get everything from both your 20,000 and 30,000-mile visits again. In addition to replacing your air filter, checking your fluids, changing your oil, and rotating your tires again, you'll also get new spark plugs.
All the systems and parts that our service team inspects will help keep your car on the road for another 60,000 miles and beyond.
BMW Service Center
When it's time for routine maintenance, visit our service center at BMW of Annapolis. We have a team of highly trained technicians who can take care of all these jobs and inspections, plus many more.
We also have a full collision center on site to help get you back on the road after an accident. Whether you're stopping in for a routine visit or a service or repair is needed, you can be confident that we're only using genuine BMW parts on your car to give you the best performance.
To learn more about your BMW 4 Series maintenance schedule come visit us sometime. We take pride in serving drivers in Highland Beach and Hillsmere Shores. Schedule service online to get your next appointment set up quickly and easily.