BMW 3 Series Oil Change Frequency

The BMW 3 Series is known for being a well-rounded sports sedan, with great handling and a comfortable ride. One reason the vehicle can perform so well is through its powerful engine options.
However, to keep the engine running, it needs to be filled with clean oil. Over time, the oil will get dirty, which could cause the engine to overheat and possibly break down in Annapolis, Highland Beach, or Hillsmere Shores.
To prevent this from happening, it's crucial to get regular oil changes. Below, we'll tell you the BMW 3 Series oil change frequency. Read all about it below, and contact us at BMW of Annapolis if you have any questions. Give us call at 410-349-2141 today!
When to Get a BMW 3 Series Oil Change
The average length of time to get an oil change is every 5,000 to 7,500 miles. However, you should always check your owner's manual to determine the recommended service interval.
The BMW 3 Series, though, will tell you when an oil change is needed through the iDrive Control Display screen behind the steering wheel. If you see OK, then no service is currently required. If you see a triangle, the deadline for scheduled maintenance is approaching. If you see a small, dark triangle inside a bigger triangle, then the deadline has already passed.
When an oil change is needed, a message will appear in the instrument cluster. How much you need to add will also be displayed.
The instrument cluster is a great indicator that an oil change is warranted. However, you may notice some warning signs that suggest an oil change is needed sooner rather than later.
For instance, if the engine is running louder than usual or the oil is looking black and gritty, then it's time to get an oil change.
Where to Get an Oil Change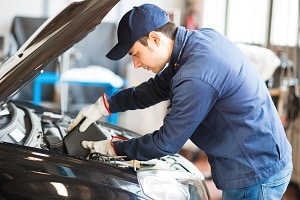 If your BMW 3 Series needs an oil change, then bring it to our state-of-the-art service center. Our technicians will use the appropriate oil, as recommended from the owner's manual. For instance, it states that suitable engine oil types should have a rating of BMW Longlife-01 FE or BMW Longlife-14 FE+. Plus, it should have a viscosity (thickness) grade of SAE 0W-20 or SAE 0W-30.
Not only will our technicians use the correct oil, but they'll also work quickly and efficiently. In fact, with BMW FastService®, we'll perform oil changes and other inspections in an hour or less, so you can get back to your daily routine as soon as possible.
If you want to wait for your car, you can hang out in our comfortable lounge. Here, you can take advantage of free Wi-Fi, along with complimentary snacks, soft drinks, and baked goods. You can also utilize our courtesy shuttles, so you can get where you need to go until your car's oil change gets finished.
Schedule an Oil Change for the BMW 3 Series
If your BMW 3 Series needs an oil change, then schedule service at BMW of Annapolis. Either give us a call or make an appointment online. Then, we'll reach out to confirm a day and time that work for you.
We love helping drivers throughout Annapolis, Highland Beach, and Hillsmere Shores keep their 3 Series in tip-top shape. We want to do the same for you, so contact us for an oil change today!