Community Spotlight: Sam's on the Waterfront

Pair a Delicious Meal with Stunning Views
Whether you're visiting Annapolis, MD, for the day or have been living here for years, you'll find that there are tons of great restaurants to visit. If you're wanting a special day or night out with loved ones, we recommend putting Sam's on the Waterfront onto your must-dine list.
We'll tell you why in this community spotlight. Discover what this establishment has to offer, then contact them for a reservation.
All About Sam's
Sam's on the Waterfront is, first and foremost, known for serving high-quality food and drinks along the Chesapeake Bay. However, they also take great pride in lowering their carbon footprint while highlighting as many local products as possible.
These products can be found in a menu that changes seasonally and uses the freshest ingredients possible. Owner and Founder Andrew Parks created a fine-dining restaurant that provides first-rate service as well as a relaxing yet sophisticated atmosphere.
Always Fun to Be Had Here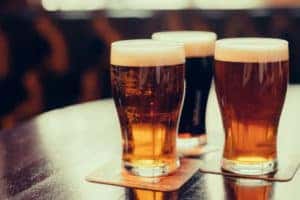 However, the restaurant provides lots of fun events, too. For instance, they've had a "Tap Takeover," where you'll find a specific brewery's beers on draft.
They also frequently have live music. If you love jamming out to tunes with your meal, you'll want to stop by Friday and Saturday nights for some great entertainment.
Furthermore, you may want Sam's to bring the party to you. In which case, you could always take advantage of their catering services. Whether you're throwing a baby shower, Bar/Bat Mitzvah, or wedding reception, they can provide all the food you need for your next special event.
What's Good to Eat?
Whether you're in the mood for lunch, dinner, or weekend brunch, you'll be sure to find something that'll make your taste buds happy. The menu does change from time to time, but here's a sample of what you could find to eat.
Lunch
Sam's Award Winning 'Kobe' Burger: With lettuce, tomato, onion, house pickle, and a side of fries.
Smoked Cubano: House smoked pork, ham, pickles, spicy mustard, farmer's cheese, and a side of fries.
Street Tacos: Choose between House Smoked Pork, Fish, and Shrimp Chorizo. Each one comes with pickled onion, pico, queso fresco, jalapeno crema, and choice of bibb or corn tortillas.
Dinner
Rosemary Chicken Fricassee: Topped with mushrooms and peppers cream sauce, served with roasted fingerling potatoes and fresh vegetables.
Grilled Rockfish: Topped with tomato red peppers beurre blanc sauce, served with red quinoa and chef's vegetables.
Black 'n Blue Strip: Roasted garlic fingerling potatoes and broccolini, topped with bacon, shallots, and blue cheese dressing.
Brunch
Chesapeake Benedict: Poached egg, lump crab, and hollandaise sauce on an English muffin, served with bacon and down home fries.
Sourdough Bananas Foster French Toast: Classic sourdough bread seared in a cast-iron skillet topped with maple banana foster and served with bacon and down home fries.
Smoke Up Hash: Roasted fingerling potatoes, smoked pork and ham with sautéed peppers, onion, and garlic, topped with a poached egg and jalapeno lime dressing.
Make a Reservation Today
As you can see, Sam's on the Waterfront has a great deal to offer locals and visitors of Annapolis, MD.
If you're looking for a delicious meal with beautiful views of the bay, then don't wait. Reserve your spot for brunch, lunch, or dinner today!