Hang Out with Chesapeake Lovers at Boatyard Bar & Grill

If you're looking for an exciting hangout spot with great food and drinks, you may want to consider visiting the Boatyard Bar & Grill.
This family-friendly restaurant is all about having a good time, whether that's showing the latest game on TV or hosting a local band.
In this community spotlight, we'll go over everything this popular bar/restaurant has to offer. Keep reading to learn more!
Like on Facebook | Follow on Instagram
The Vision of the This Annapolis Restaurant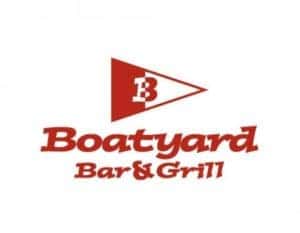 Boatyard Bar & Grill was founded by Dick Franyo in 2001. He grew up sailing and fishing on the Chesapeake Bay, and he developed an appreciation for this natural treasure. He also grew to love the bars and restaurants he visited among his many travels.
As a result, he decided to open Boatyard as way to celebrate not only the Chesapeake Bay lifestyle, but also the other places his fellow sailors and fishermen frequented.
The restaurant is conveniently located just a short walk or water taxi ride away from the City Dock. When you step inside, you'll feel like you're in an old sailboat, with mahogany walls, sea foam green ceilings, and large wooden beams. There are also tons of art and photos adorned from ceiling to floor, to showcase the place's sailing and fishing roots.
Serving World-Famous Crab Cakes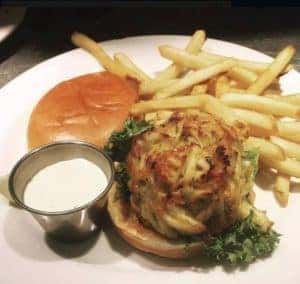 Whether you sit behind the bar or in the main dining area, you'll want to taste the restaurant's famous crab cakes.
These cakes are so well known that people from all over come to eat them. In fact, they've sold just under 80,000 cakes in one year alone! They're so good, the Baltimore Sun awarded Boatyard for having the "Best Crab Cake in the Region."
However, they offer plenty of other tasty dishes, from their fish tacos to their lobster rolls to their gumbo. They also have a raw bar that's gotten rave reviews. The house oysters are always local and fresh, while The Steamer/Sampler Bag is perfect for sharing amongst your fellow seafood lovers.
Fun & Unique Events to Enjoy
Boatyard is also a great place to simply hang out. Monday through Friday is Happy Hour, where you'll enjoy various apps and drinks for a special price. We recommend getting one of the Boat Drinks, like The Admiral (Maker's Mark bourbon, Canton Ginger liqueur, Peychaud's bitters, Luxardo Cherry, and an orange peel).
You can also stop by during one of their Full Moon Parties. Enjoy a Blue Moon while listening to some live entertainment.
Furthermore, the restaurant hosts big events throughout the year, like The Boatyard Beach Bash. Held at the Annapolis Maritime Museum waterfront facility, guests can enjoy signature cocktails, hors d'oeuvres, and music while raising money for the museum. An extensive grilled buffet is offered, too, to make the night extra special.
Stop by for Good Food & Drinks Today
Overall, Boatyard Bar & Grill has something for everyone: great food, delicious drinks, and a festive atmosphere.
If you want to experience this all for yourself, then don't wait. Stop by the Boatyard Bar & Grill with friends and family today!