2018 BMW X5 eDrive Review

Want a luxury midsize SUV that blends the best in performance with exceptional efficiency? A plug-in hybrid like the 2018 BMW X5 eDrive may be next on your shortlist of cars to consider. Not only does it deliver excellent fuel-saving efficiency, but it also offers a full slate of technology to make your drive easy.
Drivers near Annapolis, Highland Beach, and Hillsmere Shores can discover what the X5 eDrive has to offer in this car review, courtesy of our team at BMW of Annapolis. If you have any questions as you're reading, don't hesitate to drop us a line!
2018 X5 eDrive: Engine Performance Specs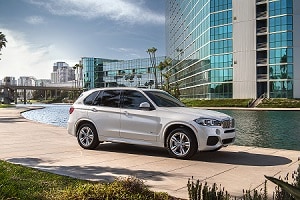 You'll get plenty of power from the hybrid powertrain in the 2018 X5 eDrive. It uses a 2.0L turbocharged I-4 engine and an electric motor to deliver a total power output of 308 horsepower and 332 lb-ft of torque, which is more than enough for strong merging and passing power on the highway.
What else can all that power do for you? The X5 eDrive can tow up to 5,952 pounds, giving you plenty of pulling power when you need it most. So, the next time you're planning a camping trip and need to drive that camper trailer out to your favorite weekend escape destination, the X5 eDrive is up for the job.
Plug-In Hybrid Fuel Efficiency
The main reason drivers turn to plug-in hybrids is their claim to exceptional fuel efficiency, and the BMW X5 eDrive doesn't disappoint. The hybrid powertrain works together with other innovative features, like an engine start/stop function, to boost fuel efficiency to incredible levels.
Drive in ECO PRO Mode for the most efficient experience behind the wheel. This mode reduces climate settings, makes accelerating pedal mapping and transmission shifting less aggressive, and recharges the lithium-ion battery pack while driving.
The X5 eDrive gets an EPA-estimated fuel economy rating of 56 combined MPGe, making your trips to the gas station fewer and farther between. Even more impressive? It can go up to 14 miles on electric power alone!
Technology Features for Your Convenience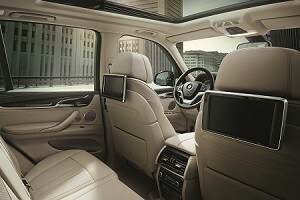 One of our favorite features in the 2018 X5 eDrive is the iDrive 6.0 infotainment system. Not only does it look sleek, with the 10.2-inch touchscreen protruding from the top of the dash, but it also offers Natural Language Understanding, so you can change the station or find directions simply by saying what you want to do.
Smartphone integration is part of the package. If you need to charge your phone during your drive, the charging pocket in the center console is a feature you'll come to love. If your phone is compatible, all you need to do is set it in the pocket, and it'll charge automatically-no wires needed!
Try Out the 2018 BMW X5 eDrive Yourself!
Did you find our car review helpful as you look for the perfect luxury midsize SUV? At BMW of Annapolis, we want to make the shopping process as easy as possible for you. If you live near Annapolis, Highland Beach, or Hillsmere Shores, schedule a test drive of the 2018 BMW X5 eDrive today!